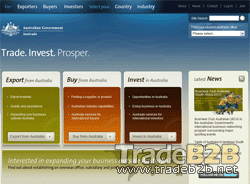 Austrade.gov.au
Updated Date:2015-08-18 15:35:21
Views:
Comment:
Smalltext:The Australian Trade Commission - Austrade.gov.au is the Australian Government's trade and investment development agency.We help Australian businesses of all s
Newstext
The Australian Trade Commission - Austrade.gov.au is the Australian Government's trade and investment development agency.
We help Australian businesses of all sizes, across all sectors, to succeed in international trade and investment.

Operating through a global network of offices in more than 110 locations in over 55 countries, Austrade offers practical advice, market intelligence and ongoing support to Australian business.