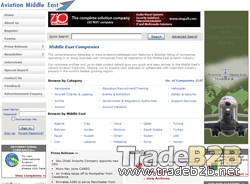 Aviationmiddleeast.com
Updated Date:2015-08-18 15:35:44
Views:
Comment:
Smalltext:The Internet intelligent business gateway, Aviationmiddleeast.com managed by Media Sultan Group is set to offer the best of the Aviation sector in the Middle Ea
Newstext
The Internet intelligent business gateway, Aviationmiddleeast.com managed by Media Sultan Group is set to offer the best of the Aviation sector in the Middle East , to the world.
The first aviation data source portal of the emerging Middle East Aviation, Airports & Aerospace industry, offering the worldwide aviation fraternity, the comprehensive, detailed and regularly updated business contacts, company profile, industry statistics, tenders, recruitment, news and other industry related information's include the existing business opportunities.

Aviationmiddleeast.com is providing an excellent opportunity to all to reach the fastest growing Middle East market and helping the regional companies to do the global marketing & sourcing for their business needs.

We welcome you to send us your company profile and other business information's. The given company contact details & profile will be carried under relevant business sections and sub categories to ensure the maximum reach for your products / services through Aviationmiddleeast.com.