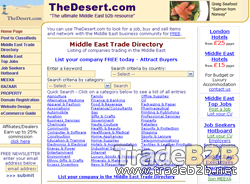 TheDesert.com
Updated Date:2015-08-18 15:35:40
Views:
Comment:
Smalltext:The ultimate Middle East b2b resource, marketplace of export and import, offers company directory, catalogue and trade leads to importer, exporter, manufacturer
Newstext
The ultimate Middle East b2b resource, marketplace of export and import, offers company directory, catalogue and trade leads to importer, exporter, manufacturer, wholesaler, distributor and suppliers.
TheDesert.com is a Trademark and the Trading Name of Gamar Telecommunications (UK) Limited. Gamar Telecommunications (UK) Limited is a London based company which started trading in 1991 as a specialist in providing leading edge telecommunications technology to the Middle East Corporate Sector.

Shafique M. B. Azam - BA (Econ) DMS

CEO & Founder - TheDesert.com is the former Middle East Manager for British Telecom. He started his career in the Computer industry with Computerland in 1985. In 1986 he joined British Telecom as a Manager responsible for business with Wall Street clients such J. P. Morgan, Bankers Trust and Credit Suisse First Boston. In 1989 he was appointed Regional Manager Middle East where he worked on leading edge technology projects for The Arab Bank, Gulf International Bank, The National Bank of Kuwait, Saudi Research and Marketing, National Commercial Bank, Kuwait Press Agency etc. In 1991 he established Gamar Telecommunications (UK) Ltd in London. This successful niche market Telecom Company established a large client base of international companies such as; Al-Rajhi Banking, Saudi Embassy, Middle East Broadcasting Centre, Embassy of Chile, Arab British Chamber of Commerce, Saudi Research and Marketing etc.
H. R. Jamalallial - BSc.

Senior Oil Executive with extensive international experience at Director and Managing Director level. He has worked in the UK, USA, Europe, Japan and Middle East region. He has been involved in TheDesert.com since May 2000. His main contribution is developing and implementing corporate strategy to communicate and work with Chairman and Chief Executive Officer community in Saudi Arabia and the Gulf region.
Abbas Al-Sabea - BSc. MBA

He has over 20 years experience with Batelco PTT heading up corporate sales, delivering leading edge technology to the top 1000 Arab Companies. His international expertise and contact base in the region has assisted TheDesert.com to carry out extensive research into the needs of the regions corporate sector.
Michael (Mick) John Brown - MBE

A senior international telecommunications executive who was responsible for winning the $4 billion telecoms contract in Saudi Arabia for AT&T. He is currently president of a major enterprise in Saudi Arabia and provides advice on strategy and business development for TheDesert.com.
F. Bashir - BSc.

She is a UK qualified Accountant and has provided financial and business planning for the company since 1992.
Dr. P. Kilduff - BA. PhD.

Specialist in international management and business development. He is USA based and acts as a source of information for leading edge technology sector developments in the Telecom, Media and Technology sector.