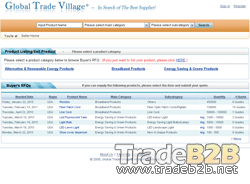 Cometotrade.com
Updated Date:2015-08-18 15:36:07
Views:
Comment:
Smalltext: Global Trade Village, located in Wisconsin, USA, has been in international business for more than 25 years. Our main goal is to find the best supplier, who of
Newstext
Global Trade Village, located in Wisconsin, USA, has been in international business for more than 25 years. Our main goal is to find the best supplier, who offers the best quality with the lowest cost product, for the US business. We also help US manufacturers to sell their products to the overseas market.
Here is how we do it.
We let the suppliers list their products, but only quality products are accepted.
We let the US business choose and source the product they want.
We let the suppliers quote (bid) and present the best pricing to the customers.
We pool all orders together to get volume pricing for even small orders.
We handle all transactions and deliver the goods to the customers.
We consider ourselves as an "eMover" in this business, not as a traditional importer or distributor who like to keep in stock. We try to move each transaction as quick and economic as possible. To save cost: (1) So we order what customers order. We distribute once we get it. We don't keep inventory. (2) We offer volume pricing on small order when we can pool all orders together.
We believe we offer a practical, economical and effective way that will benefit our customers and suppliers in this global trade business.