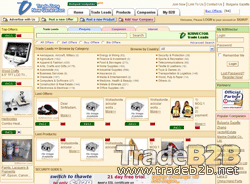 B2Bvector.com
Updated Date:2015-08-18 15:35:25
Views:
Comment:
Smalltext:B2BVector.com is a Global B2B Marketplace, which is designed for electronic commerce of commodities and services in the business to business sphere from the lea
Newstext
B2BVector.com is a Global B2B Marketplace, which is designed for electronic commerce of commodities and services in the business to business sphere from the leading sectors of the world economy.
With the help of our service the deals between sellers and buyers become more secure, we exclude the intermediary make the business more transparent and reduce the losses of our partners.

B2BVector.com is a subsidiary of VECTOR Ltd. VECTOR was founded in 1993 as a trade company and has business relationship with partners in the region of North, South America, Europe and Asia.

The team of b2bvector was set up during the year 2003 from leading specialist on the field of international trade, notable economists, computer engineers and designers.

Our mission is optimizing our services with new decisions to make them easy and useful for you.

B2BVector is online B2B Marketplace from new generation, its include system of optimizing functions, which save time and satisfy the needs and wants of all B2B Consumers and B2B Professionals.

By virtue of the perfect design and the simple way of using the interface, you have the possibility to fill a pleasure during the time you are browsing on the different sections of B2BVector.com.

In the sections "Trade Leads" and "Products" was integrated unique menu: Browse by Category and Browse by Country. Thanks to this menu you can find fast and easy every published offer or product advertisement from our registered users.

With the new system for subscription for the period 7 days, 1 month, 6 months or 1 year, you will not be depended from an annual subscription any more.

In the sections "Post a new Offer" and "Post a new Product" you have the possibility to choose your Listing Plan, to publish your offer or product advertisement in the corresponding category, to edit it or to change this offer or advertisement with new one only in this category during the period chosen by you 7 days, 1 month, 6 months or 1 year. To every offer or advertisement you could attach 10 pictures which maximum size could be 100KB for each of them and to change the pictures during the period chosen by you.