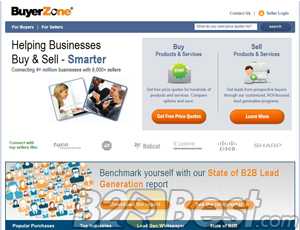 BuyerZone.com
Updated Date:2015-08-18 15:36:07
Views:
Comment:
Smalltext: BuyerZone.com is a leading online service provider that connects buyers and suppliers.
For Buyers:BuyerZone's free online services save buyers time and mone
Newstext
BuyerZone.com is a leading online service provider that connects buyers and suppliers.
For Buyers:
BuyerZone's free online services save buyers time and money on their most important purchases by connecting them to peer-reviewed suppliers that best meet their requirements. Plus, users can access unbiased, expert purchasing information at anytime to make better informed decisions for their businesses.
For Suppliers:
Suppliers win more business - faster and more cost-efficiently - by filling their sales pipeline with pre-verified leads from BuyerZone. Supplier partners can choose from a range of lead generation and marketing programs that deliver leads for buyers ready to buy, as well as for prospects in earlier stages of their purchasing cycle. All programs are quick to implement, easy to measure and position suppliers for success.
Key Stats:
* BuyerZone's Lead Generation and Marketing programs connect millions of buyers to a comprehensive network of 8,500+ leading local and national suppliers across more than 150 product and service categories.
* BuyerZone has
Facilitated more than $13 billion in purchasing transactions
More than 3 million registered users
1.8 million unique monthly site visitors
Delivered 7+ million leads to its suppliers
A 90% annual supplier renewal rate
History:
Founded in 1992 by its current President, Mie-Yun Lee, BuyerZone has stayed true to its original mission: to help to define the way successful business transactions are created and conducted online. BuyerZone continues to test and develop the best methods and systems for connecting buyers and sellers by listening to the direct needs of both sides, and offering its customers solutions that are balanced, fair and ultimately generate great momentum.
BuyerZone is proud to be a 5-time winner of Deloitte's New England Tech Fast 50. The company was acquired in 2007 by North America's largest Business to Business(B2B) information provider, Reed Business Information (RBI).