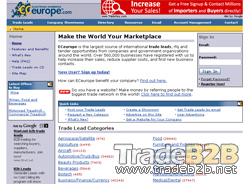 ECeurope.com
Updated Date:2015-08-18 15:36:02
Views:
Comment:
Smalltext: ECeurope is the largest network of international B2B and government b2g import export trade leads marketplace and directory in the world.
ECeurope.com invite
Newstext
ECeurope is the largest network of international B2B and government b2g import export trade leads marketplace and directory in the world.
ECeurope.com invites you to become part of an exciting international e-commerce network. The ECeurope.com Partners Program was developed in order to increase and enhance multi-industry trade around the world.
The growing international ECeurope.com network consists of regional Partners (such as WorldbidArgentina.com) and category-specific industry Partners (such as WorldbidFashion.com). The network provides broad international reach to companies of all sizes around the world. It facilitates 24-hour access to local, national, and international markets linking various trade sectors in 100 countries around the world. Each site creates its own regional or industry trade market while driving its trade leads to each ECeurope.com site. In this way, the partnerships work to the mutual benefit of all.
The ECeurope.com site is quickly becoming one of the busiest trade sites in the world. The trade lead network currently shows $1 trillion in active buy and sell leads organized into over 1,000 product and service categories. Over 100 new users register each day. Partnership automatically provides you access to this thriving network.
As a member of ECeurope.com's partnership community, you will be provided with a turnkey business-to-business website. Each partner site has access to ECeurope.com's buy and sell leads - currently, the site contains over $1 trillion leads and more than 1,000 new offers to buy and sell are posted each day. The partner site also has access to many of the value-added benefits of the ECeurope.com community:
* 80,000 companies worldwide listed in the business directory - and growing by 100 per day.
* Ready-made sites for regional and industry Partners, in your own local language.
* Company Showrooms for registered users using ECeurope.com's easy-to-follow templates.
* Continuous trade news from around the world.
* Emails sent to members regarding new trade leads in their selected industry.
* Category-specific banner advertising.
Furthermore, you don't have to worry about the technology. ECeurope.com's in-house programmers will create, host, and maintain the site while you manage its business. And ECeurope.com's expert staff will work with you to develop value-added content resources geared specifically to your users.
As a ECeurope.com Partner, it will be your responsibility to market the site, increase its user traffic, provide content specifically targeted to your region or industry, sell memberships, provide customer service and sell advertising. Because the site comes to you ready-made, there are built-in advertising solutions in place for you to work with.
Worldbid Corporation will take whatever steps are appropriate to ensure the success of the Partner's endeavours. This includes providing promotional, marketing, advertising expertise.
We believe this is an exciting, mutually beneficial program, and we look forward to working with you to build a powerful and profitable partnership.