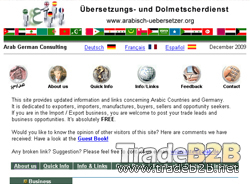 Arab.de
Updated Date:2015-08-18 15:35:51
Views:
Comment:
Smalltext:This site provides updated information and links concerning Arabic Countries and Germany.It is dedicated to exporters, importers, manufactures, buyers, sellers
Newstext
This site provides updated information and links concerning Arabic Countries and Germany.It is dedicated to exporters, importers, manufactures, buyers, sellers and opportunity seekers.
If you are in the Import / Export business, you are welcome to post your trade leads and business opportunities. It's absolutely FREE.

The main objective of the Arab German Consulting is assisting worldwide companies and individuals to take advantage of the international market.

We provide many valuable international trade services for importers, exporters, manufacturers, suppliers, distributors, trade business and opportunity seekers.

We offer you worldwide expert presence in Europe and provide you with market research, lists of names of various products and suppliers.

You may contribute to the expansion of these markets through assisting us and others with valuable input.