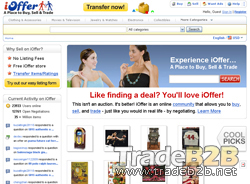 Ioffer.com
Updated Date:2015-08-18 15:36:03
Views:
Comment:
Smalltext:IOffer.com began in 2001 as we saw the need for an alternative to frenetic and hyper-competitive web marketplaces. It was clear that people wanted something dif
Newstext
IOffer.com began in 2001 as we saw the need for an alternative to frenetic and hyper-competitive web marketplaces. It was clear that people wanted something different, something that was not frustrating, but easy - even fun!
The iOffer site was launched in 2002, and has steadily grown as we've helped to foster the relationships between Sellers and Buyers in a venue based on honest negotiations between individuals. And since our launch, our goal has remained the same: to bring real people together to buy and sell, to exchange ideas and information in an engaging and entertaining manner within a safe and secure environment.

In our ongoing efforts to keep iOffer the easiest way to buy and sell, we've made numerous improvements and additions to the site.

Read about them in detail in the announcements.