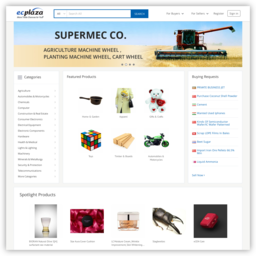 Ecplaza.net
Updated Date:2015-08-18 09:24:10
Views:
Comment:
Smalltext: ECplaza.net started as a B2B trading portal site in 1996, EC Plaza has grown to No.1 Trade Leader providing online and off line service to over 400,000 member
Newstext
ECplaza.net started as a B2B trading portal site in 1996, EC Plaza has grown to No.1 Trade Leader providing online and off line service to over 400,000 members. Based on export marketing, we are operating not only B2B website, EDI service, trade consulting and so on, but also offline trade-related services for SMEs.
With worldwide network and high brand recognition, we are extending our business field to the global market by providing great value such as more business opportunities, cost saving and convenience.
Over 4 million offers are posted in our website, which is the largest scale in the world. Besides, our B2B website is listed on the top level of several famous ranking sites such as Alexa, Rankey, 100 HOT etc.
The premiere wholesale B2B marketplace, ECPlaza provides information on wholesalers, importers, exporters, manufacturers, suppliers and buyers on various products around the world. Suppliers can promote their products and services. Buyers can search suppliers' information, products and services. ECPlaza Trademall is a safe online wholesale mall for international trade.