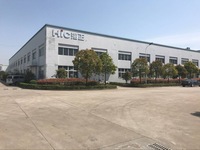 Cixi City Marcon Electric Appliance Co., Ltd.
Contact Person:Mr. Sunver Fu

Country/Region:

China

Business Type:

Manufacturer

Year Established:

2018
Company Profile
Country/Region:China
Business Type:Manufacturer
Year Established:2018
Number Of Employees:51 - 100
Certificates:
Contract Manufacturing:OEM Service Offered
Total Annual Sales Volume:
Main Products:freezer, beverage cooler, home refrigerator, kitchen refrigerator, mini bar
Main Markets:Africa 30.00% North America 10.00% Southeast Asia 10.00%
Factory Size:3,000-5,000 square meters
No. of Production Lines:
Contract Manufacturing:OEM Service Offered
Location:zongshan road,cixi city,zhejiang province,china
Operational Address:Rm. 1203, 12/F, Bldg. A, Hengyuan Plaza, No. 1988, North 3rd Ring East Road, Cixi, Zhejiang, China
Founded in 1996, Cixi City Marcon Electric Appliance Co., Ltd locates in Cixi city,Ningbo Area. It is a rapidly developing city within the "golden economic triangle" among Shanghai, Hangzhou and Ningbo. It enjoys efficient transportation solutions and convenient communications. Our company was founded in 1996 and occupies an area of 20,000sqm and a building area of 10,000sqm. We employ 300 people, including 10 engineers. Our production capacity is estimated at around 200,000 freezers and refrigerator and commercial refigerated equipment as well as refrigerator spare part per year. Currently, we have several established brands, including SUNOW and Feijing, involving 6 series and 30 models from chest freezers to refrigerators. Our products feature quick freezing, low noise, large capacities, and versatility. With a good sales record, we have delivered our products not only to inner Chinese mainland, but also to some foreign markets including Southeast Asia, the Middle East, Africa and South America. In 2004,we also broad our business into water dispenser as well as water purifier and anual capacity is 100000~150000 units.We assure you of our quality service and attention at all times. Please contact us with any inquiries. We look forward to hearing from you and working together to build a strong relationship in the future.
Top